News
House Fire Severely Burns Elderly Female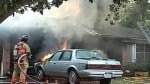 South County (Montgomery County Monitor) – Just before 7:00 p.m. Tuesday evening, personnel from four different fire departments responded to a house fire in the 25000 block of Glen Loch Drive in the Timber Lakes Timber Ridge subdivision in Spring, Texas.
The first firefighters to arrive on location reported heavy fire and smoke coming from the garage of the one-story brick home.
An interior search of the structure discovered the lone occupant of the house, an elderly female.  Firefighters were able to pull the women to safety, but not before she suffered severe burns to her upper body. Due to the serious nature of the victim's injuries, she was transported by air ambulance to a treatment facility in Houston, Texas.
Montgomery County Fire Marshal's Office personnel believe the fire originated in the garage area, but were not willing to speculate on the cause of the fire.
The investigation is on-going.